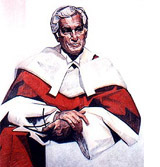 The Bora Laskin Award was established in 2003 by the University of Toronto Centre for Industrial Relations and Human Resources in cooperation with Lancaster House, publishers of information on labour, employment and human rights for over 30 years. The award is named after the late Chief Justice Bora Laskin (1912-1984), who before joining the Supreme Court of Canada, was pre-eminent as a labour law scholar and labour arbitrator. Nominations are considered of any professional involved in labour law, including academics, labour and management counsel, judges, arbitrators and adjudicators.
Our 2022 Bora Laskin Award Recipients
Thomas Roper is widely recognized as an outstanding advocate, "the best employers' lawyer in B.C.," with a "Best Lawyer in Canada" ranking from 2006 to 2023 inclusively. He is highly regarded, not only for his advocacy, but also for his contributions to legal education, mentorship of lawyers, and his influential participation in a landmark 1992 review by a tripartite panel of the B.C. Labour Relations Code. Subject to only limited exceptions, the panel achieved consensus and its Report reflected a principled, consultative, and relationship-based statutory framework that brought stability and innovation to B.C.'s labour relations system. Tom has established one of Canada's most well-respected labour and employment law firms (Roper Greyell), consistently rated as one of the top ten in Canada. He has been recognized with a lifetime achievement award for his contribution to the HR profession and currently serves as a member of the Board of Governors for the Business Council of B.C.In short, Tom has, in the view of his peers, "made an indelible mark in the labour relations community," having "deservedly gained the confidence of both sides of the labour bar in British Columbia as well as universal respect from arbitrators and mediators in the province and beyond."
His remarks from the award ceremony, and the remarks of his fellow speakers, are published with permission:


Bora Laskin Award Ceremony Remarks - Thomas Roper.pdf
Jeffrey Sack is an activist lawyer, representing unions and employees, teaching international labour policy as an adjunct professor at the University of Toronto, and guiding the activities of Lancaster House, as its President and CEO. In his lengthy career, Jeffrey has been involved in the founding of the Canadian Association of Labour Lawyers (as its first President), of the Canadian Labour Law Association, and of Lancaster House itself. The cases and causes in which Jeffrey has engaged as an advocate notably include stopping the Spadina Expressway in Toronto, unionizing university faculty, securing arbitration as a dispute resolution process for doctors, preserving the right of unions to devote membership dues to political causes, and constitutionalizing the right to strike as an essential component of freedom of association under the Charter of Rights. Jeffrey is also the author and co-author of books and articles on Canadian labour and employment law, and is the recipient of the Gerard Dion Award for contributions to labour law from the Canadian Industrial Relations Association.
His remarks from the award ceremony, and the remarks of his fellow speakers, are published with permission:


Bora Laskin Award Ceremony Remarks - Jeffrey Sack.pdf
---
Past Bora Laskin Award Recipients