Recognizing Distinguished Contributions to Canadian Labour Law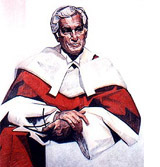 The Bora Laskin Award was established in 2003 by the University of Toronto Centre for Industrial Relations and Human Resources in cooperation with Lancaster House, publishers of information on labour, employment and human rights for over 30 years. The award is named after the late Chief Justice Bora Laskin (1912-1984), who before joining the Supreme Court of Canada, was pre-eminent as a labour law scholar and labour arbitrator. Nominations are considered of any professional involved in labour law, including academics, labour and management counsel, judges, arbitrators and adjudicators.
2018 Bora Laskin Award
The 2018 Bora Laskin Award will be presented at a special dinner event in Montreal. Details and ticket information can be found on the Lancaster House website.