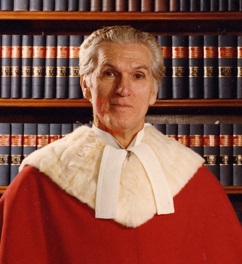 The University of Toronto is inviting nominations for its annual Bora Laskin Award for outstanding contributions to Canadian labour law.
The Bora Laskin Award was established in 2003 by the University of Toronto Centre for Industrial Relations and Human Resources in cooperation with Lancaster House, publishers of information on labour, employment and human rights for over 30 years. The award is named after the late Chief Justice Bora Laskin (1912-1984) who, before joining the Supreme Court of Canada, was pre-eminent as a labour law scholar and labour arbitrator.
Nominees are considered from all fields relating to labour law, including, for example, academia, private practice, courts, tribunals, and arbitration.
The Award Committee will consider nominations received on or before the deadline of Friday, June 23, 2023, and the award ceremony will take place on Tuesday, December 5, 2023. Further award presentation details will follow.
To submit a nomination, please fill out and submit the online form.
Award Committee Members
Ginette Brazeau, Chair, Canada Industrial Relations Board
Justice Emily Burke, Supreme Court of British Columbia
Brian Burkett, Fasken Martineau, Toronto
Professor Renée-Claude Drouin, Faculty of Law, University of Montreal
Ron Pink, Pink Larkin, Halifax
Professor Kerry Rittich, Faculty of Law, University of Toronto
Tom Roper, Roper Greyell, Vancouver
Professor Daphne Taras, Dean, Ted Rogers School of Management, Toronto Metropolitan University
The Honourable Warren K. Winkler, former Chief Justice of Ontario
Chair: Rafael Gomez, Professor and Director, Centre for Industrial Relations and Human Resources, University of Toronto
---
Our 2022 Bora Laskin Award recipients were Thomas Roper and Jeffrey Sack. Their award ceremony remarks have been published with permission below: