Recognizing Distinguished Contributions to Canadian Labour Law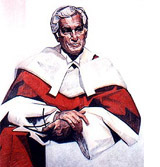 Following a two-year hiatus due to the Covid-19 pandemic, the University of Toronto is once again inviting nominations for the annual Bora Laskin Award for outstanding contributions to Canadian labour law.
The Award Committee will consider nominations received on or before Tuesday, October 11, 2022. To submit a nomination, please complete and submit this online form.
The award ceremony will take place on Thursday, November 24, at the Sheraton Centre Toronto hotel. Further award presentation details will follow.
---
The Bora Laskin Award was established in 2003 by the University of Toronto Centre for Industrial Relations and Human Resources in cooperation with Lancaster House, publishers of information on labour, employment and human rights for over 30 years. The award is named after the late Chief Justice Bora Laskin (1912-1984), who before joining the Supreme Court of Canada, was pre-eminent as a labour law scholar and labour arbitrator. Nominations are considered of any professional involved in labour law, including academics, labour and management counsel, judges, arbitrators and adjudicators.