We're very happy to introduce the CIRHR community to Milad Moghaddas, Xueyu Wang and Daniela Gatti, our newest PhD students who will begin at the Centre this fall. We had the opportunity to ask Milad, Xueyu and Daniela some questions about their primary goals, what drew them to the Centre, and the life experiences (books, activities, travel destinations, and mantras) that inspire them most. Check out our full interview with them below!
---
Milad Moghaddas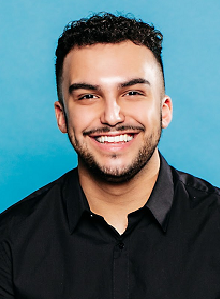 What I do to decompress: Clean my home, listen to music, and watch Judge Judy (as embarrassing as that may sound)
My favourite travel destination: Dubai for its luxury and weather, and Paris for its culture and food
What I'm currently watching/streaming: SWAT
My favourite book: An Enduring Love by Her Majesty Farah Pahlavi
A mantra I live by or a quote that inspires me: "I am not a product of my circumstances. I am a product of my decisions." - Stephen R. Covey
Milad began his Ph.D. in Industrial Relations and Human Resources at the Centre for Industrial Relations and Human Resources (CIRHR) in the Fall of 2023. After earning his Bachelor of Commerce in Entrepreneurship and Strategy from the Ted Rogers School of Management at Toronto Metropolitan University (formerly Ryerson University), Milad earned his Master of Industrial Relations and Human Resources at the University of Toronto. He is passionate about researching how organizations and leaders can (1) design psychologically safe and supportive workplaces and (2) make work more flexible to give employees more balance between their work and personal lives to bolster employee well-being and prevent burnout. He aims for his research to not only contribute to the academic literature but to yield insights with practical applications for employees, leaders, and organizations. Milad's academic and leadership contributions to date have been recognized by numerous scholarships and awards. During his Master's degree, Milad was awarded the Frank Reid Prize, which is awarded to the graduating Master's student with the highest CGPA, the Canadian Imperial Bank of Commerce Scholarship in Youth Employment (awarded twice), and the CIRHR Entrance Scholarship. He was also awarded the prestigious SSHRC Canada Graduate Scholarship – Master's Program and is an Introduction to Diversity in Doctoral Education and Scholarship (IDDEAS) Scholar.
Xueyu Wang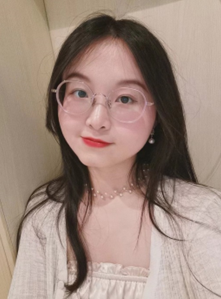 What I do to decompress: Playing games on Steam, watching adorable cat videos online, and reading BL fictions and comics 
My favourite travel destination: Italy
What I'm currently watching/streaming: Chang An 
My favourite book: The Three-Body Problem by Liu Cixin
A mantra I live by or a quote that inspires me: "大江歌罢掉头东,邃密群科济世穷。面壁十年图破壁,难酬蹈海亦英雄。" - Zhou Enlai (The main idea of the poem: Sailing eastward after the grand river's song / The myriad-minded helped the poor nation strong. The ten-year learning aimed at breaking the feudal / The man who failed but drowned was still a hero)
Prior to joining the Centre for Industrial Relations and Human Resources, Xueyu completed her Master's Degree with Distinction at the Department of Management of London School of Economics and Political Science (LSE), with a major in Human Resources and Organizations (International Employment Relations Stream). She also holds a Bachelor's Degree at the School of Labor and Human Resources in Renmin University of China. Additionally, she also has working experience as an intern research assistant for the Chinese Academy of Labor and Social Security.
Daniela Gatti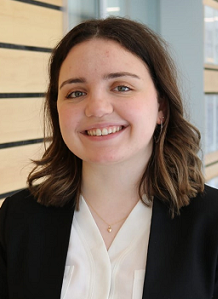 What I do to decompress: painting, writing, and exploring hiking trails with friends
My favourite travel destination: Halifax  
What I'm currently watching/streaming: Only Murders in the Building 
My favourite book: The White Album by Joan Didion 
A mantra I live by or a quote that inspires me: "Education is not the filling of a pail, but the lighting of a fire." 
Daniela has a Bachelor of Business Administration with a concentration in Human Resource Management, as well as a Master of Science in Management from the Goodman School of Business at Brock University. Through work experience in the utility industry and leadership in student organizations, Daniela has gained experience in various human resource management areas, including training, recruitment, employee relations, and health and safety. Her research interests include strategic human resource management, career development in the skilled trades, unionized workplaces in Canada, and gender equity in leadership. 
---
What are your primary goals/aspirations for this next stage of your education/research?
MM: For this next stage of my education, I aspire to become an academic scholar that produces insightful research and knowledge that not only contributes to the Human Resources Management and Organizational Behaviour literature, but also can be applied by organizations and leaders alike in their daily practices. Upon earning my Ph.D., I aspire to pursue an academic career as a scholar and tenure-track Professor.
XW: I hope to continue strengthening the theoretical foundation in the fields of labor relations and labor sociology. Additionally, I want to learn cutting-edge data analysis methods to become a researcher who is "problem-driven" and proficient in using both qualitative and quantitative research methods in the future. Moreover, I also want to enhance some comprehensive skills, such as how to establish my own academic social network, how to find collaborators, and how to establish connections with companies for cooperation and data acquisition.
DG: Entering the first year of my Ph.D., my goals are to build on my research skills and further develop my knowledge in industrial relations. I would like to expand my research interests and include more quantitative research methodologies in future projects and continue to connect my research to the community.  
Is there a certain subject your keen to learn more about/investigate further, and what draws you to this particular field of study?
MM: Broadly stated, my research interests lie in understanding how organizations and leaders can (1) design psychologically safe and supportive workplaces and (2) make work more flexible to give employees more balance between their work and personal lives to bolster employee well-being and prevent burnout. The COVID-19 global pandemic not only brought to the forefront several weaknesses in how work is conducted, but it also exacerbated its pre-existing vulnerabilities. Put simply, the way of working is changing. Employees are speaking up, prioritizing their well-being, and demanding more flexibility in how they work. Organizations and leaders that best respond to this 'new normal' stand to be market leaders, with the potential for seismic shifts in the competitive landscape of who can attract and retain the most promising talent. These growing calls by employees for workplace changes, if disregarded by employers, can result in considerable consequences and labour market volatility. Hence, I am eager for my research to investigate these phenomena further.
XW: My current research interests mainly focus on the impact of technology on the world of labor, particularly the emerging new forms of employment facilitated by digital platforms. More specifically, I am deeply interested in issues related to the protection of workers' rights and the quality of work within the context of digital labor platforms. The effects of digitization on vulnerable groups, such as women and migrant workers, are also one of my concerns. I am also intrigued by how gig workers organize themselves and resist the algorithm-based control and exploitation imposed by platform capital. Additionally, I am curious about how the macro institutional context in different countries influences the aforementioned issues, and I hope to incorporate an international comparative perspective into my research. I believe these issues are of great significance in shaping a decent and sustainable future for the world of labor in the midst of the digital wave.
DG: I am interested in researching human resource management in stigmatized career industries. I am especially passionate about applying my previous work experience in human resources in the utility industry to continue researching career development in the skilled trades sector as well as gender equity in corporate leadership.
What drew you to the CIRHR?
MM: I recently earned my Master of Industrial Relations and Human Resources from the CIRHR at the University of Toronto. What drew me to remain at the CIRHR to pursue my doctoral studies is the community of support I felt from the CIRHR faculty while pursuing my Master's degree. My Professors had a genuine interest in supporting my academic endeavours and aspirations. Earning a Ph.D. is no small feat, for there will be several demanding, challenging, and at times, frustrating moments. Therefore, an important factor in my decision-making for where I pursued my Ph.D. was being in a supportive environment where the faculty and staff were accessible and had an innate interest in mentoring and training me -- the CIRHR is that environment.
XW: In addition to its world-leading academic reputation, the CIRHR PhD program perfectly aligns with my multidisciplinary approach and can provide me with advanced analytical training in social science methodology, including exposure to both qualitative and quantitative methods. Besides, the program offers the chance to work with world-class outstanding faculty in the labor relations field.
DG: I was first drawn to the CIRHR because of the interdisciplinary approach to the Ph.D. program. After learning more about the CIRHR, I felt that I would be supported to explore my research interests as well as be introduced to new research areas in HR through coursework and opportunities to work with faculty. I also was drawn to the welcoming atmosphere, smaller class sizes and community at the Centre.  
Categories