The Changing Face of Work is on the move!
The exhibit is now on display at Queen's University in Kingston, Ontario
How has work changed over the past half-century?
How have these changes affected us?
What does the future of work have in store?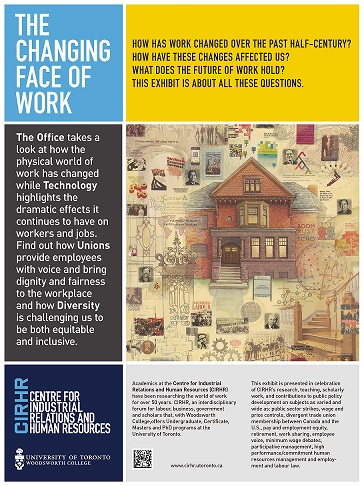 The Changing Face of Work poses these questions.
Built around four topical areas of working life—the Office, Technology, Unions, and Diversity—this public exhibit aims to introduce students and the broader University of Toronto community to the 'world of work'.
Take a look at how the physical world of work has evolved in the Office and the dramatic effects Technology continues to have on workers and jobs. Find out how Unions provide employees with voice and bring dignity and fairness to the workplace and how the Diversity of Canada's workforce is pushing workplaces to be both equitable and inclusive.
The exhibit reflects developments over the past fifty years and notable research conducted by CIRHR faculty and other industrial relations scholars in each of the four areas.
Click on the images below to see full-size images of the panels as well as lists of sources and further reading.
---
Acknowledgements
The exhibition, The Changing Face of Work, was created by the CIRHR in collaboration with the Industrial Relations and Human Resources Library. The project was conceived by Professor Rafael Gomez as incoming Director in 2015 to celebrate 50 years of teaching and research at CIRHR.  Its aim is to introduce students and the University of Toronto community more broadly to the 'world of work'. Framed as a public exhibit, four topical areas of working life were chosen and titled accordingly: The Office, Technology, Unions, and Diversity. The banners reflect notable research conducted by industrial relations scholars and Centre faculty.
The IRHR Library staff, Victoria Skelton, Head Librarian IRHR and Cate MacLeod, Library Assistant, conducted background research, wrote copy and obtained the 'right' visual images for the displays. Our design team at Projektor, Sarah Longwill and John Furneaux, created the innovative designs and graphic images that both transformed the content and kept the text compact and informative. Cate MacLeod deserves much of the credit for both the prose and image choices. Woodsworth College Students and Employment Relations majors, Vince Park and Kathy Chen, assisted with the research as did Monica Hypher, IRHR library staff. Finally, we wish to thank Woodsworth College itself for agreeing to mount the exhibit.