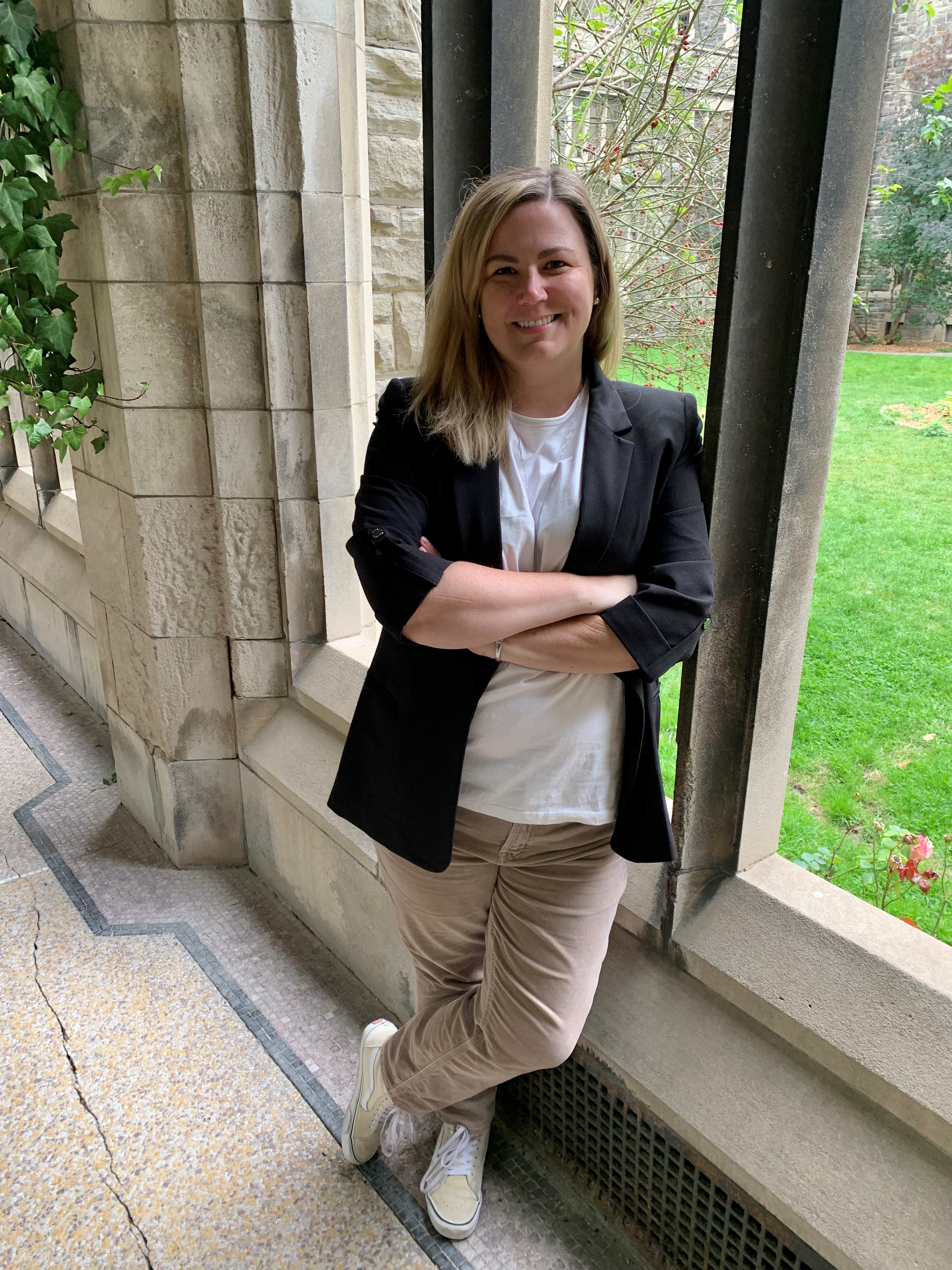 We're very pleased to report that PhD Candidate, Jennifer Harmer, is one of our first CIRHR students to be selected as a School of Cities Graduate Fellow!
The School of Cities at the University of Toronto is a unique multidisciplinary hub for urban research, education, and engagement, creating new and just ways for cities and their residents to thrive. The Graduate Fellows program supports graduate students from across the University who are working on urban-focused projects of an applied, translational, or policy-oriented nature, and Jen is the only graduate scholar this year to be researching internal public sector administration issues. 
"I want to highlight the importance of the municipal workforce and other public sector labour issues," says Jennifer. "I started my career at Queen's Park in the Ministry of Municipal Affairs and Housing, so I'm excited to combine my experience in public policy, with the CIRHR focus on labour, and the School of Cities' impact on urban affairs."
Jennifer's School of Cities project documents the rise of public sector unionism, and what this means for local government employers and unions. A key component of the Graduate Fellow's work is not simply to research and report, however – the Fellow is also tasked with developing a knowledge mobilization project that is transformative, with research findings that are communicated in an engaging and creative way.
"I am creating a handmade, fibre-based art installation that will reflect the labor force of the 444 municipalities in the province – a way to honour the history of the craftsperson and craft unionism, and a way to connect to the historic roots of labour."
But the end-product is just one facet of the exhibit. As Jennifer explains, this piece is also about the journey and the process of creation:
"The development of this art installation represents the contribution of my time and labour to the School of Cities and to the discourse around public sector workers. Unlike a sewing machine or other forms of textile automation, slow-stitch is a mindful process that provides time to reflect on where labour has been and where it's going; the future of craftsmanship and public sector work; and the technological innovations that change the nature of work." 
To emphasize the progression of technology, Jennifer will also be integrating a QR code into her tapestry, linking to a digital platform where her research findings from the primary and secondary data sources will be made available. "Having an online component means that people who are unable to visit the School of Cities can still engage with the project and learn about the research I've conducted on public sector work in local government."
We congratulate Jennifer on the success of her endeavor, as only a select number of Graduate Fellows are chosen each year. "I am honoured to be included, and to play a role, alongside many brilliant scholars, in bringing the School of Cities' mandate to life."
Jennifer's art installation and research findings will be available at the School of Cities showcase in April of 2024.