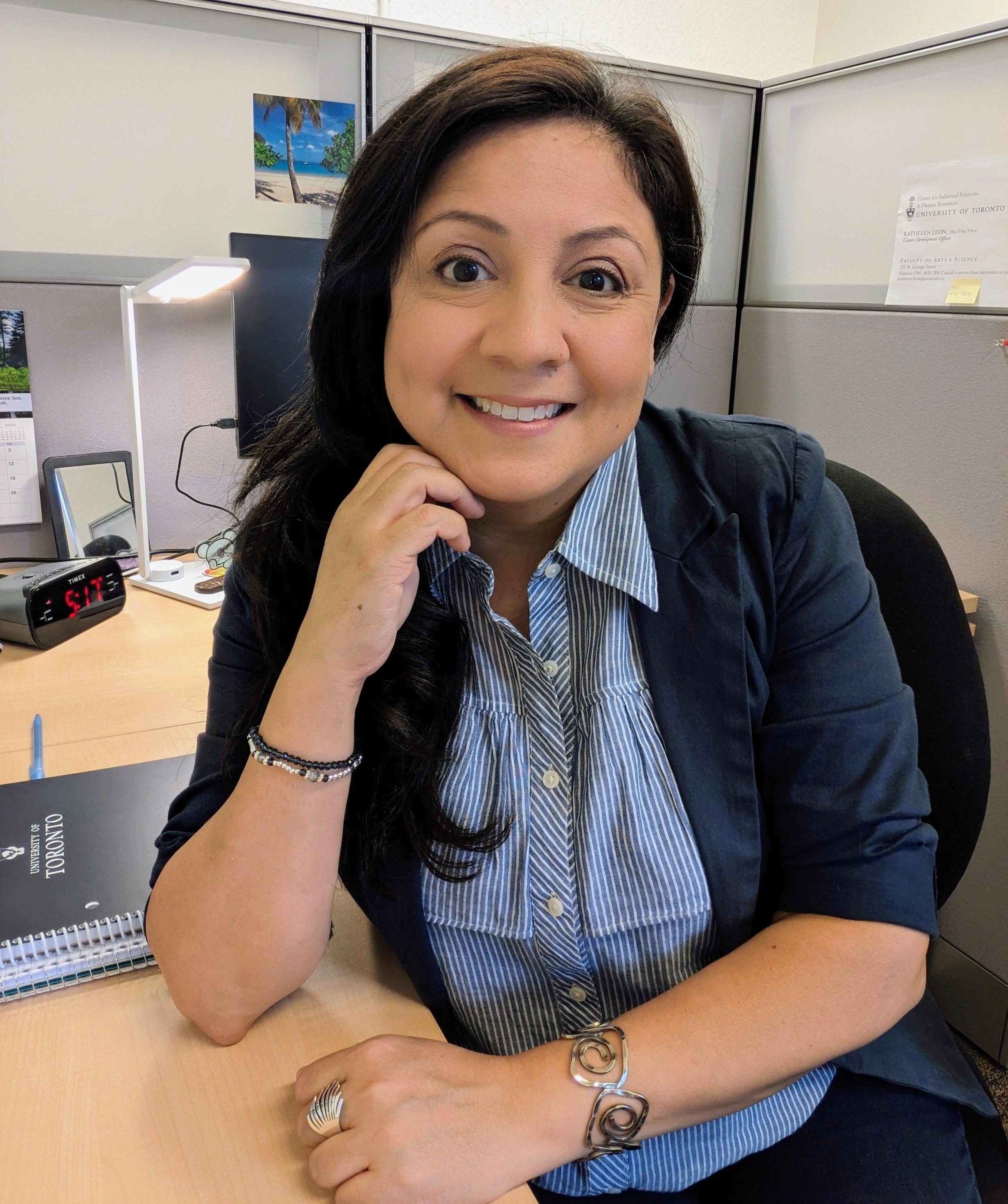 We are thrilled to introduce you to our new Career Development Officer, Kathleen Leon, who will begin her role at the Centre for Industrial Relations and Human Resources this fall.
Kathleen is a first generation Canadian who was inspired to work with new immigrants to Toronto, due to the fact that her Ecuadorian parents were once newcomers themselves. She began her career teaching ESL and working with young adults from all over the world and, after many years of teaching English, she shifted her career focus to working with international professionals who wanted to enter the Canadian workforce. Kathleen has worked in Toronto's non-profit career-services sector where she served her community and worked with a diverse, multicultural population. With a knack for curriculum development and teaching, she has provided guidance to a broad demographic of jobseekers, including recent graduates, older adults, and people with disabilities. As a recruitment advisor and career counsellor, she has provided direct support to jobseekers, successfully connecting them with employers, and, over the past decade, Kathleen has spearheaded several government-funded employment programs, delivered college-level career planning courses, and facilitated career-related workshops at many community agencies across the GTA. She has empowered hundreds of jobseekers over her career, helping them develop a roadmap to secure employment in their desired field.
We had the opportunity to sit down with Kathleen to learn more about what she's gleaned from her career, what she's looking forward to at the Centre, and how her new role will help ready our students for, and connect them with, the world of work.
---
What first drew you to the Centre for Industrial Relations and Human Resources? Was there a new type of experience or challenge you were looking for in your career? 
People tend to have three significant career shifts/changes in their lifetime, and this current role of Career Development Officer is a good mix of my first two careers wrapped into one which is quite exciting! 
My first career was as an ESL teacher – I did that for fifteen years before going back to school to complete my Human Resources Management Certificate which ultimately led me into the career-services sector. Over the past thirteen years, I've had the opportunity to develop and facilitate hundreds of workshops, organize job fairs and mentoring/networking events and, in turn, help countless jobseekers in the GTA find employment. Over five summers, I also had the opportunity to teach at U of T's St. George campus – working at U of T was an experience I loved so much that I set my sights on returning one day. 
I've just recently joined the CIRHR team and I'm very excited to be in this role – in many ways, it feels like everything I've done up until this point has led me to this opportunity!
You've worked at Employment Ontario for over a decade, helping newcomers and underemployed populations find work. When you think back on your time there, are there one or two success stories/positive outcomes that really stick with you? 
It would be difficult for me to choose one or two stand-out stories because there have been many beautiful moments throughout my career that have made me proud of the work I do. I've worked with highly-skilled international professionals who have left everything behind for a new beginning; recent grads who are eager to get into the workforce, but don't know where to begin; young people who are struggling and dealing with many barriers to employment; refugees living in shelters who feel lost and isolated; individuals living with visible or invisible disabilities; and older retirees who want to re-enter the workforce.
Every jobseeker has their own unique story. What I do is listen, help them come up with a game plan, provide them with the tools and resources they need, and most importantly, give them the encouragement to believe in themselves. I'm passionate about my work and I find it incredibly rewarding, especially because I'm not only helping one individual; I'm helping their whole family, including their children, realize their dreams.
Can you tell us about your role at the Centre and how it will support the student experience? How can students set up a meeting with you, and what pre-work should they do to best prepare for an initial conversation? 
At the moment, I will be providing undergraduate students in their final two years of study (year 3 and 4) with some much-needed career support to ensure that they have the necessary tools to effectively job search and plan their career path. They will have the ability to book one-on-one appointments with me, and drop-in hours will also be posted very soon. 
The best way to connect is with an email introducing yourself and letting me know what kind of assistance you would like from me. I do encourage you to also connect with me on LinkedIn, so that I can invite you to join our new undergrad IRHR Career LinkedIn group and receive regular updates, weekly job tips, access to the job board and general info about any upcoming events at CIRHR.
I strongly encourage students to continue to access the Career and Co-Curricular Learning Network website and attend their workshops. I also recommend checking out the programs and services offered through the Student Life Career Centre, including the Work Study Program and ASIP (internship program). 
Although my current focus will be on students nearing the completion of their undergraduate degree, I hope to expand my availability to other cohorts in the future. As we develop our career programming, we'll also be looking into additional job readiness workshops and networking/mentoring events throughout the year, some of which may be open to more students.
Finally, what are three or four things our students, staff and faculty would be surprised to know about you?
I'm not afraid of heights! I've gone ziplining, tree-top trekking and I'd love to skydive one day
 
I grew up playing sports and singing in choirs, so I wouldn't mind joining a sports league if anyone wants to start one up, or going out to sing some karaoke
 
I'd love to start a podcast as a side hustle, providing career advice to newcomers. I believe I could reach a larger group of people, specifically professional immigrants arriving to Toronto. I'd also like to try audiobook narration, now that I have a proper mic
 
A hotdog isn't a hotdog without ketchup and mayo - I think it's an Ecuadorian thing! 
Categories
Tags