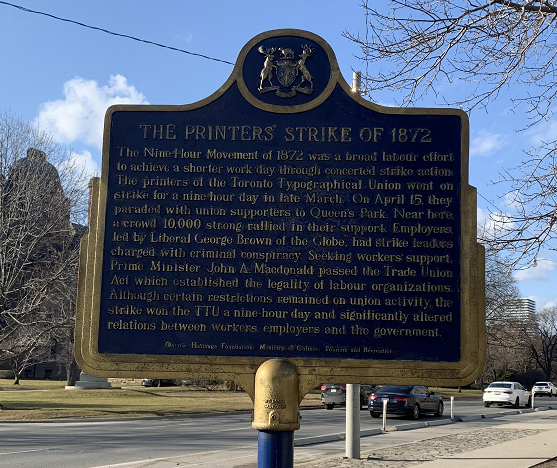 Walking by Queen's Park at the corner of Grosvenor Street, you may notice a blue Ontario Heritage Trust plaque. This plaque honours one of the many historical labour strikes that occurred on and around the University of Toronto's campus. If you take a moment to read the plaque, you will learn about the Printers' Strike of 1872, a key moment in Canadian labour history. The Printers' Strike was part of the Nine Hour Movement, a larger campaign that involved workers from various industries fighting for a shorter workday. The movement came to a head when the Toronto Typographical Union went on strike and marched with supporters through downtown Toronto to Queen's Park on April 15, 1872. The crowd was approximately 10,000 strong, a number made even more impressive by the fact that Toronto's population at the time was less than 100,000.
Employers retaliated by bringing in strikebreaking workers and starting the Master Printers' Association, led by politician and journalist George Brown. Strike leaders were arrested and charged with criminal conspiracy as union activity was not yet legal. These actions only added fuel to the fire and citizens continued to protest in support of the strikers. Prime Minister Sir John A. Macdonald saw the situation as an opportunity to gain political support and passed the Trade Union Act just three days after the protest at Queen's Park began. With the passing of this Act, union activity became legal and protected in Canada.
The Toronto Printers' Strike is just one of several ground-breaking labour strikes that have occurred in Ontario. The IRHR Library is releasing a new blog series exploring some of the notable strikes of the 1970s in Ontario. The series, titled On the Line: Exploring the Strikes of 1970s Ontario also offers a variety of library resources for those looking to learn more about issues related to these labour movements.
Categories
Tags