The CIRA/ACRI Climate Crisis and the Future of Work Summer School begins with the premise that bold climate action can no longer wait. As the United Nations has recently warned, current pledges and policies by governments around the world – including those of Canada - are not enough to stave off a future climate disaster (UNEP 2021b).
"Addiction to fossil fuels is mutually assured destruction… and the world is sleepwalking to climate catastrophe…. Instead of hitting the brakes on the decarbonization of the global economy, now is the time to race towards a renewable energy future."

- Antonio Guterres, Secretary-General of the United Nations in a March 21, 2022 speech
"This is a critical issue. It's clear that climate change and environmental degradation threaten the prospects of realizing decent work and inclusivity for all," says Prof. John Peters, the organizer. "Bringing students together with practitioners can help build networks, open doors and find solutions to the challenges facing labour and the broad economy."
The innovative course delivery means that Toronto's in-person attendees will be linked with Montreal-based in-person attendees, as well as participants joining virtually in both languages. "Using the latest technology to unite in-person and virtual attendees means that students and other participants can be linked in the context of our extensive geography" explained Jen Harmer, Teaching Assistant for the Summer School Course.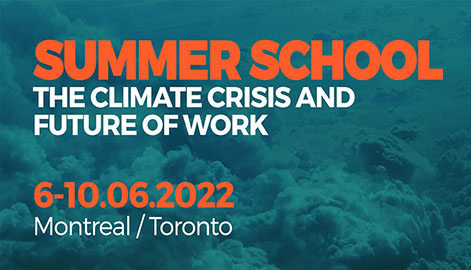 The week has already brought together organizers in the common goal of putting this event together. "Being a part of this week means that I have already had the opportunity to liaise with students, staff, and faculty across Canada who are involved with the event," Jen added. 
The organizers also wished to recognize the extensive work of Tanya Pitel, Carol Canzano-Hamala, Andreas Vatiliotou, Prof. Frank Reid, the CIRHR library staff, and the team at the Université de Montréal for their efforts to help put together the event in Toronto. The event has already brought together researchers and organizers under this important umbrella, and is sure to be a fascinating look at the climate challenge as it relates to the context of work, employment, and environmental sustainability.
Practitioners and researchers who wish to attend can do so by registering here. Students currently enrolled in university may be able to register for academic credit in IRE 2715H without additional tuition fees. Be advised that academic credit is only available to those attending in person. CIRA/ACRI has also made a limited number of travel and accommodation bursaries available to student members.
For more information, please contact jen.harmer@mail.utoronto.ca.