September is upon us! Classes are back in session and we are back here, too, for another year of the MIRHR Alumni Spotlight.
This month, we are featuring two alumni who are also headed back to school: David Doorey (MIR 1992), professor at Osgoode Law School at York University, and Christina Kaszap (MIRHR 2019), an incoming law student at the Western University Faculty of Law.
David Doorey is Associate Professor at York University in the School of HRM. He has been academic director of Osgoode Hall Law School's LLM in Labour & Employment Law for over a decade, and is a Senior Research Associate at Harvard Law School's Labor and Worklife Program.
David's research and teaching is primarily in the area of labour and employment law and legal theory—research, he notes, that often leads him into other areas.
"I've published articles and book chapters on environmental law and how it intersects with labour law, corporate social responsibility and labour practices within global supply chains, among other areas. I've been teaching labour and employment law and industrial relations to undergraduate and graduate law students and business students for nearly twenty years now. I've even taught Labour and Globalization at the Centre!"
Christina Kaszap is going into law school at the Western University Faculty of Law with plans to specialize in employment law "and perhaps human rights"—and with an open mind. "I may change my mind," she says, "I do know I have a strong interest in employment law."
Either way, she'll be building on her experiences both in the MIRHR program and in the workplace.
"I feel that the MIRHR program is a great stepping-stone before law school because throughout the program you learn a vast amount about employer and employee rights in the workplace."
After completing the MIRHR program, Christina worked as a Talent Acquisition Consultant at Scotiabank. She reflects on how significant employment law has become during the pandemic, which overlapped a significant portion of that time: "Since many of us have been working from home, the lines have been become blurred in terms of workplace law and employer/employee obligations."
Both David and Christina knew going into the Master's program that they wanted to become lawyers.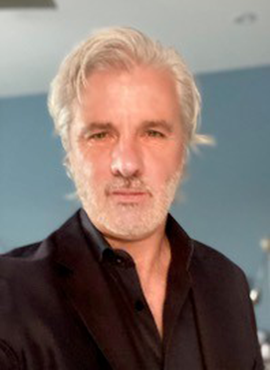 David began the MIR planning to go on to law school and become, specifically, a labour lawyer. It was while taking an introductory undergraduate course with Professor Frank Reid that he discovered industrial relations. As an undergrad, David was a member of the first cohort to complete the undergraduate program in Employment Relations (now Industrial Relations and Human Resources) and was a union steward at Dominion Stores. During his MIR, he got a position at the union that represented Dominion workers, the Retail, Wholesale & Department Store Union, through the Ontario government's Student's Training in IR (STIR) program. "In that job," he says, "I helped to organize taxi drivers in Toronto."
After completing his MIR, David went to Osgoode Hall Law School for his LLB and practiced labour law in BC and Ontario, including as general counsel to the United Steelworkers.
"I was on the legal team that represented the [Retail, Wholesale & Department Store Union] (now part of the United Steelworkers) in the case that led to the first-ever Walmart store in the world being unionized."
"Connections I made beginning in the MIR followed me forward for years."
He later received an LLM Labour Law from the London School of Economics and Political Science and his PhD from Osgoode Hall Law School, and began his appointment at Osgoode in 2006.
Christina says she, too, was interested in law school before starting the MIRHR program. During her undergraduate degree in business, she took her first labour law course—and switched her specialization from accounting to human resources.
"I was very much intrigued about the legal side of human resources."
She knew she wanted to continue her academic journey after her BComm and, indeed, Christina says she continued to learn about employment and labour law throughout the MIRHR program.
Her main objectives going in were to expand her network and gain more experience in research and writing. "I had many opportunities to further shape my research and writing skills throughout the program and I believe this will help me in my future law career."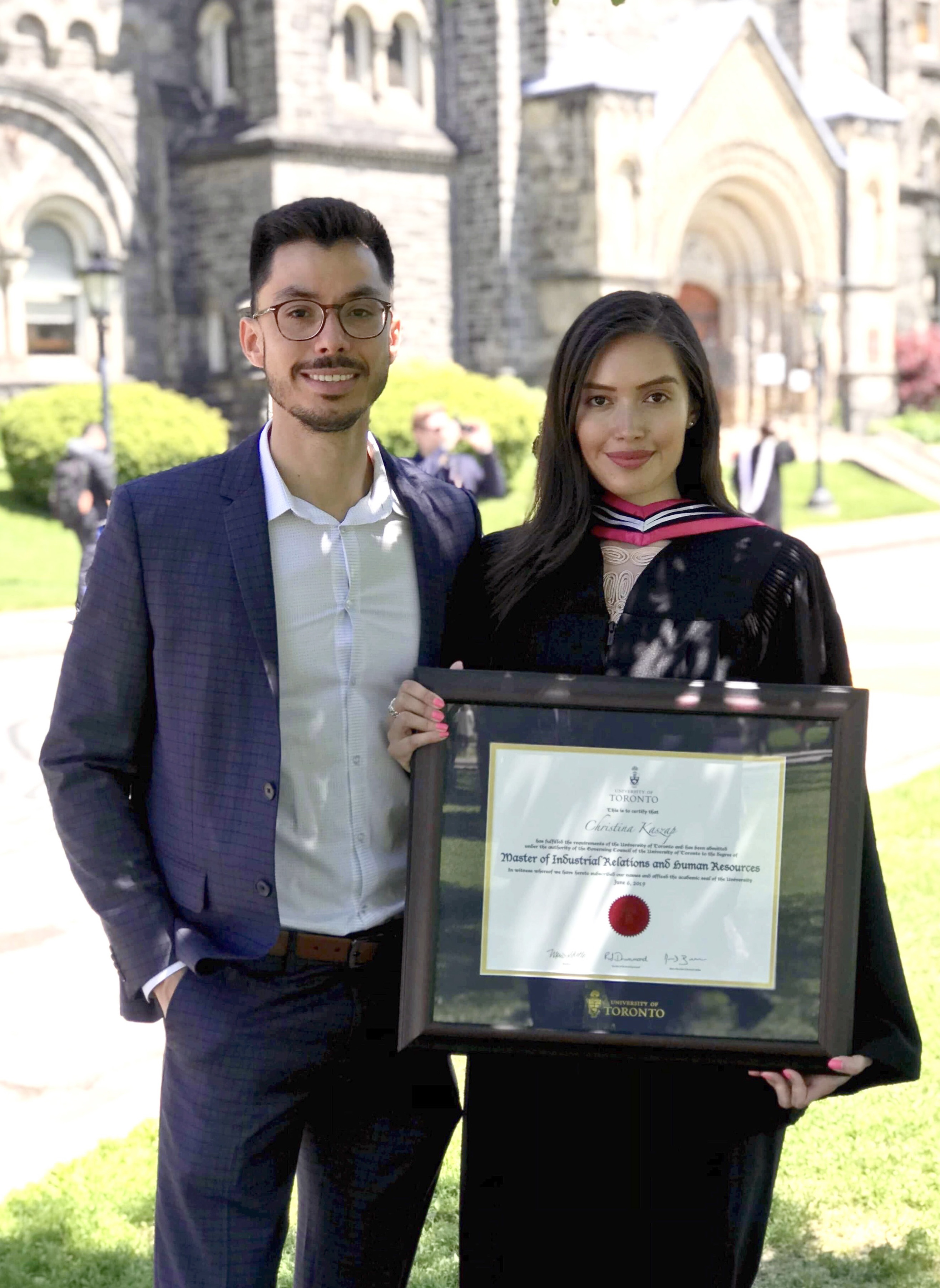 Christina also wanted to secure a position and gain work experience in human resources. She found her experiences in the MIRHR program gave "a competitive edge" in the labour market when applying and interviewing for positions after graduation.
"Since the MIRHR program is very hands-on I was able to speak about various examples as a student during interviews. For instance, I was able to exemplify the skill of negotiation and I spoke about the negotiation competition from my Negotiations course. During interviews, I saw that this was something potential employers appreciated because I provided examples of the skills I proclaimed to have."
David's course experiences also left lasting impressions.
"As a wannabe law student, the highlight was probably taking the law courses at the U of T Law School, especially Labour Law with David Beatty, which had a great impact on how I think about legal issues to this day."
David and Christina share fond memories of the social aspects of their time at the Centre and the lifelong friendships they made in the program.
"In fact," says David, "I think its' time for a 30 year reunion of the Class of 1991-93!"
Christina describes how her instructors in the MIRHR program pushed her to the next level.
"By speaking to my professors throughout my time at the CIRHR, my future plans became clearer and more attainable for me. I strongly believe in mentorship and the MIRHR provided that type of guidance for me."
As a teaching assistant at Ryerson during her MIRHR studies, Christina had the opportunity to experience this from the other side, too. In weekly seminars for an introductory HR course, she was in a position to both share her own knowledge and to "help students in their first year of university—a time when there can be a lot of unknowns."
For students beginning their first year in the MIRHR program, both David and Christina advise building connections.  
"Get involved with as much as you can, meet as many people as possible in the field you're interested in, attend every event you can," says David.
"I've always found the Centre alumni to be a great supportive group and you never know when someone you meet during the MIRHR program might be in a position to give you advice or you them."
Similarly, Christina recommends networking with as many people as you can. "Doing so can help change your perspective."
While today's students may be beginning the Master's program at that time when much remains uncertain, Christina offers some reassurance. "Not everything will go as you might see it in your head and that's the beauty of it. Everyone has their own timeline and story, so never compare yourself to others. Instead be inspired by those role models you look up to."
Categories
Tags