The CIRHR exhibit The Changing Face of Work has reached it's second second Queen's University location. In its new setting in the Queen's University Employment Relations Program student lounge in Robert Sutherland Hall, the exhibit is reaching new audiences with its celebration of research, teaching, scholarly work, and contributions to public policy.
Heading to Kingston this summer? See the exhibit in person at 138 Union Street. 
Full information about the exhibit, including image attribution, references, and further reading continues to be located on the CIRHR website.


The four theme banners in their current setting at Queen's University, alongside a intriductory banner and plaque created by Queen's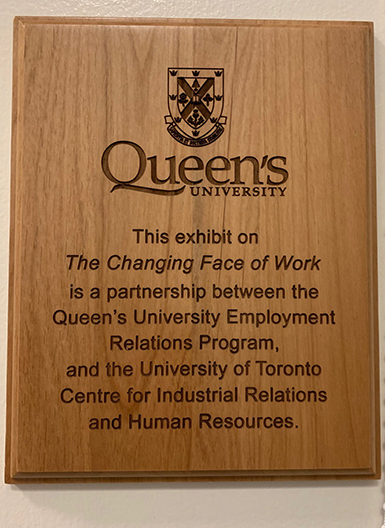 Plaque created by the Employment Relations Program at Queen's: "This exhibit on The Changing Face of Work is a partnership between the Queen's University Employment Relations Program, and the University of Toronto Centre for Industrial Relations and Human Resources."
The CIRHR's second exhibit, Why We Work, has its first panel on display now outside WW126, and the project website continues to grow with online-only content.