On Tuesday, May 28 and Wednesday, May 29, labour relations professionals from across a range of unions, human resources departments, community organizations and more gathered at the CIRHR to participate in Mental Health at Work: Meeting legal obligations, providing effective support, a two-day program organized with Lancaster House. 
Like the program's participants, the session leaders were drawn from across a range of fields. Together, CIRHR Director Rafael Gomez; Clinical Psychologist Dr. Mike Condra; lawyers Kate Hughes—Union Counsel at Cavalluzzo LLP—and Cheryl Wiles Pooran—Employer Counsel at PooranLaw; Nader Boutros, Director of human resources at UTM; and Bridget Pridham, National Health and Safety Representative at CUPE, encompass a plurality of perspectives on the employment relationship.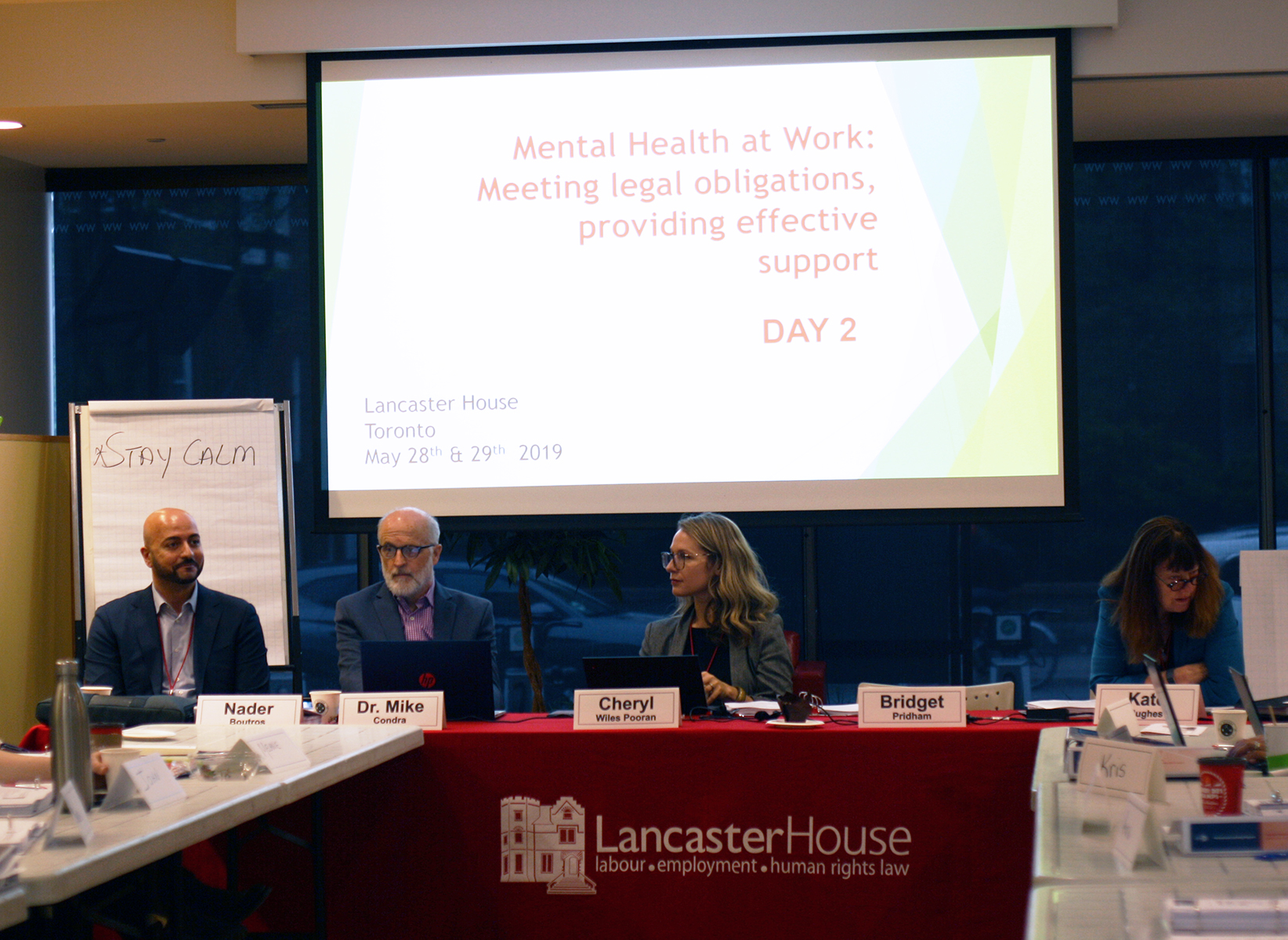 Nader Boutros, Dr. Mike Condra, Cheryl Wiles Pooran and Katie Hughes open Day Two of the event.
The Professional Learning Program was intended to prepare labour relations professionals to promote mental well-being in the workplace and support and accommodate employees with mental health disabilities.  
As with many of our events, Mental Health at Work was a chance to catch up with Centre alumni. Back at the Centre were Bernadette King (MIRHR 2013), now a workplace advisor at AMAPCEO, and Anna Gordon (MIRHR 2008), an HR Business Partner at York University and founder of Focused Ambition Career and Academic Counselling. 
Anna Gordon (left) and Bernadette King are CIRHR alumnae.
The program will run again next month in Edmonton, on June 18th and 19th. Registration information and the full program agenda are available from the Lancaster House website. 
Categories