By Jen Harmer
CIRHR friends and family were a strong presence at this year's Labor and Employment Relations Association (LERA) conference at the Westin hotel in downtown Cleveland, Ohio. The theme of this year's event was Ahead of the Curve: Challenges Posed by Technology and the New Work Force. Many embraced the opportunity to connect with researchers and practitioners from the U.S. and beyond. CIRHR faculty and students took on varying roles from presenting research, sitting on panels, and acting as chairs and discussants during sessions. A high-level view of all their appearances as panelists, chairs, and presenters is available here.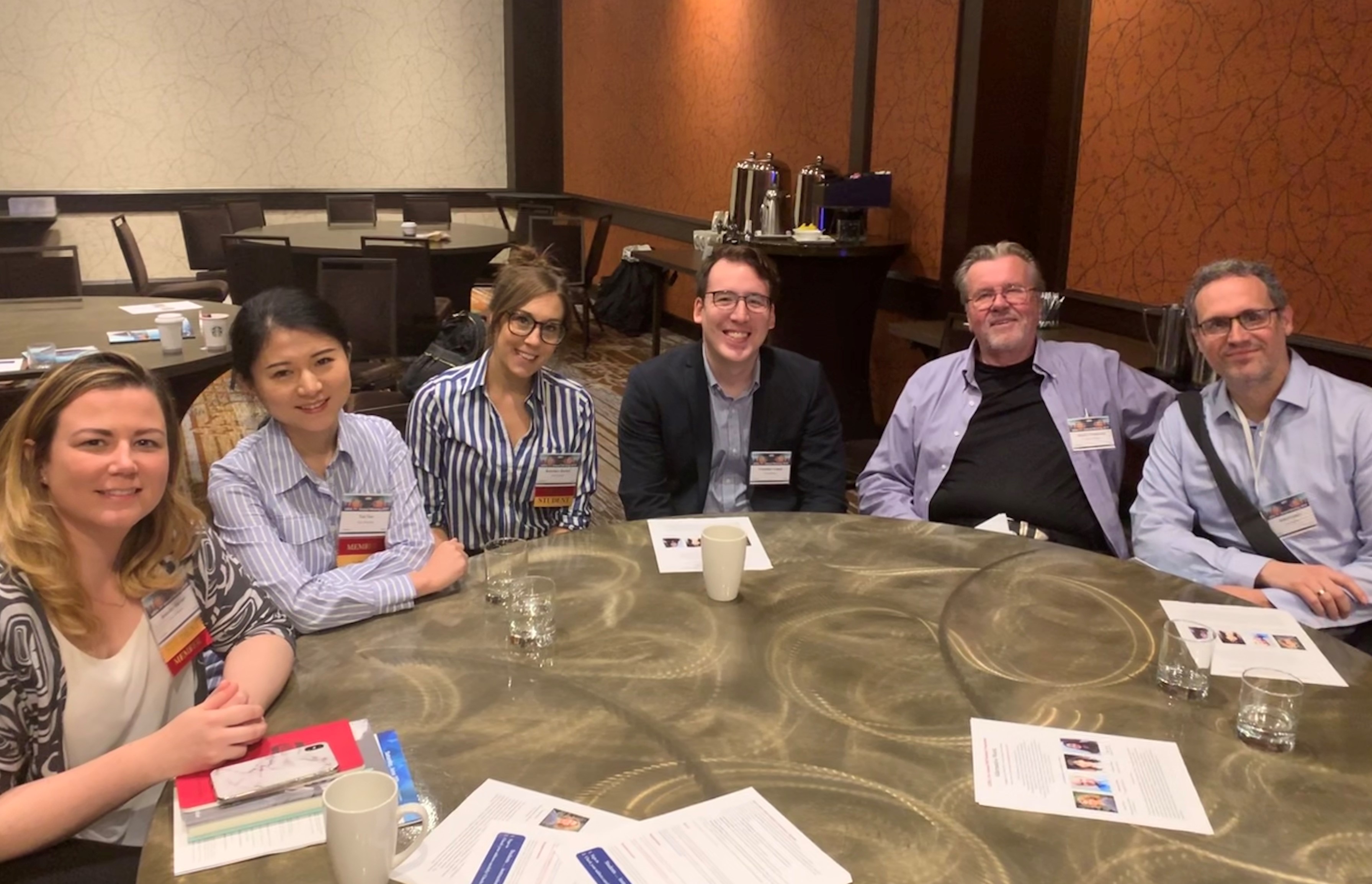 Students and faculty attend a conference session. 
From left: CIRHR PhD students Jen Harmer, Yao Yao, Kourtney Koebel, and Guenther Lomas; CIRHR Professor Morley Gunderson; and CIRHR Director Rafael Gomez.
Faculty and alumni from the Masters and PhD program made numerous contributions to the agenda. PhD students participated in the 21st LERA PhD consortium, and five current PhD students presented their research through oral presentations and posters:
Kourtney Koebel, University of Toronto—The High Cost of Leisure? Re-Examining the Effect of Unconditional Income Transfers on Labour Supply Decisions
Jennifer M. Harmer and Qian Zhang, University of Toronto; Allen Ponak, University of Calgary; Daphne Taras, Ryerson University; and Piers Steel, University of Calgary—Do Arbitrators Procrastinate? 
Guenther Lomas, University of Toronto and Albert Park, Hong Kong University of Science and Technology—Why Do Some Firms Adopt High Performance Work Systems and Others Do Not? The Case of China and Its Dynamic Business Environment 
Byron Lee, China Europe International Business School; Yao Yao, University of Toronto; and Zhiqiang Liu, Huazhong University of Science & Technology—The Incentive and Sorting Effects of Pay-for-Performance and Punishment-for-Underperformance in Chinese Workplaces 
Guenther Lomas, University of Toronto—Do Major Disruptions at the Workplace Affect the Decisions of Firms to Adopt High-Performance Work Practices? 
Yao Yao, University of Toronto—As the Legal Profession Uberizes: the Emergence of a Dual Legal Labor Market 
Notably, Dionne Pohler captivated all attendees at the Distinguished Plenary with her discussion of Bob McKersie's presentation, 60 Year Reflections on the Evolution of Industrial Relations, and book, A Field in Flux: Sixty Years of Industrial Relations.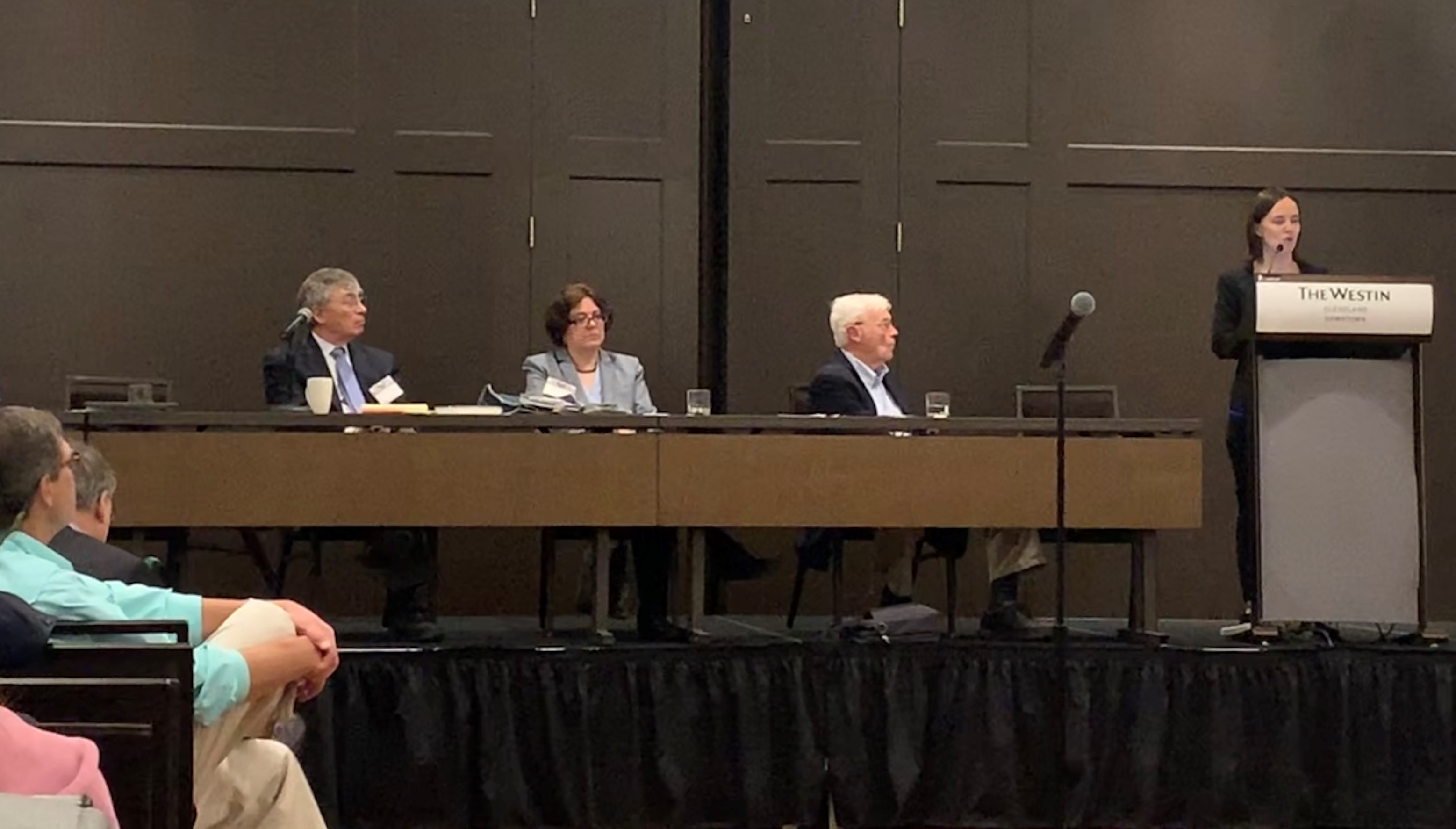 Professor Dionne Pohler presents her analysis of Bob McKersie's new book during the distinguished plenary.
From left: Thomas A. Kochan (Massachusetts Institute of Technology); Adrienne E. Eaton (Rutgers University); Robert B. McKersie (Massachusetts Institute of Technology); and Dionne Pohler (CIRHR Professor)
Conference attendees also had the opportunity to tour the local Ford engine plant, watch a baseball game, and even take a boat cruise of the local area. And of course, faculty and students cheered all the way from Cleveland during the Raptor's championship win over the Golden State Warriors. While the 2019 LERA conference took many from the Centre out of Toronto, this didn't diminish the support for our team. During game 6, students and faculty applauded the team alongside conference attendees from across the U.S. and Canada—the atmosphere was electric.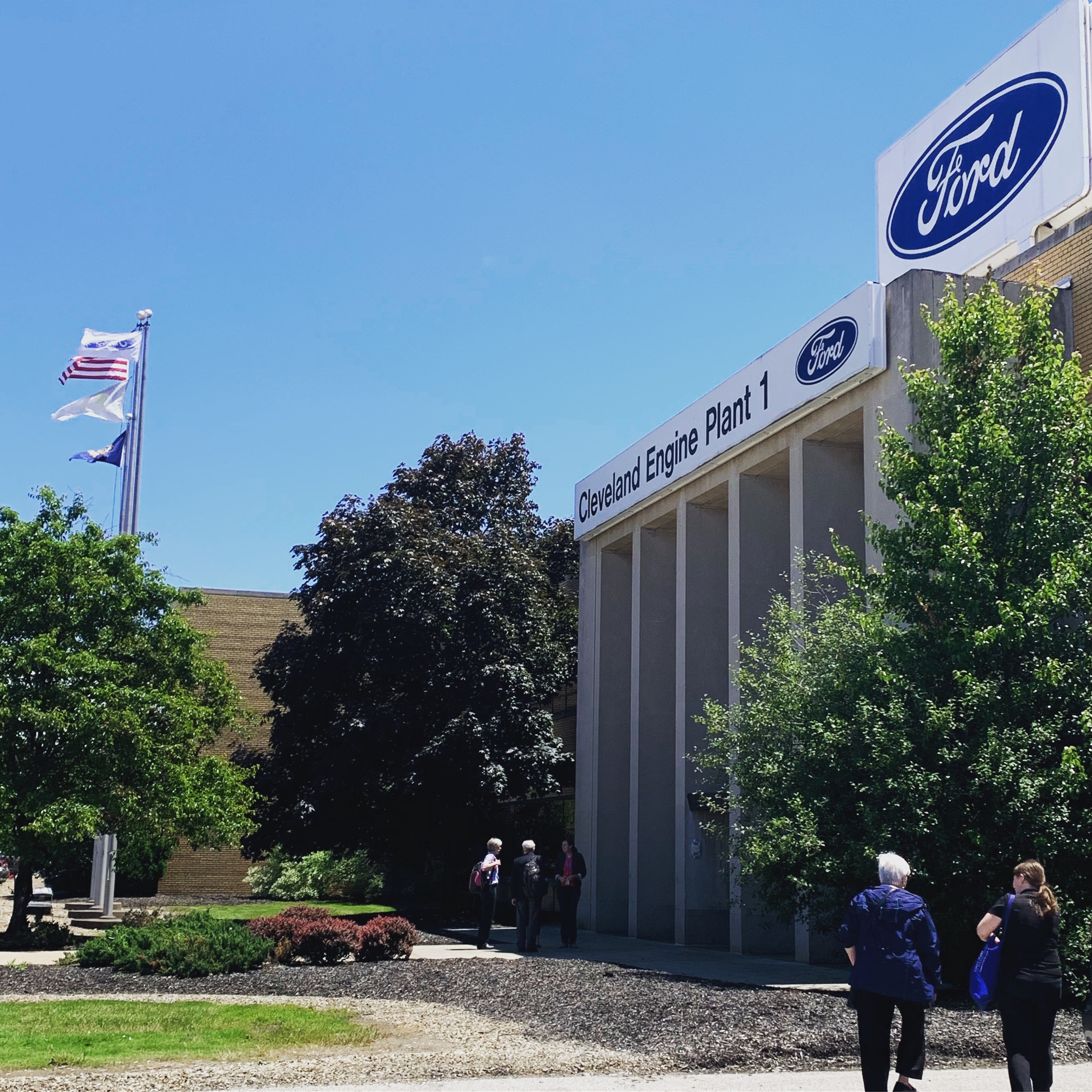 Participants walking toward Cleveland's Ford engine plant for a meeting with factory staff and management as well as a plant tour.
Next year's event will be held in Portland, Oregon. For more information stay tuned to the LERA website!
Categories